The next evolution of event tech
Plan events. Sell tickets. Manage access.
Trusted by some of the biggest events in the country
A platform ready to deliver your events
Learn how our end-to-end services will meet the demands of your events
Cashless ticketing that works like magic
Our Magic Money POS is a contactless and cashless payment solution that makes every part of the customer experience simpler, faster and more fun. Our system is designed to reduce friction so your guests can enjoy everything your event has to offer
Make it easy for your customers to give you their money, and they will give you more of it.
Self-service payments and ticketing
Run a more efficient event with a much smaller team by automating ticket purchases, redemptions and reloads. Our kiosks make the entire process effortless for your staff and for your customers.
Gain real-time, location specific, insights into guest behaviors, all while reducing friction.
Powerful and intuitive online ticketing
Our platform has been designed and developed from decades of experience to seamlessly handle every part of online ticket sales for real world events. The result is a robust set of tools that will do what you need and get out of your way.
This is the software we built for ourselves.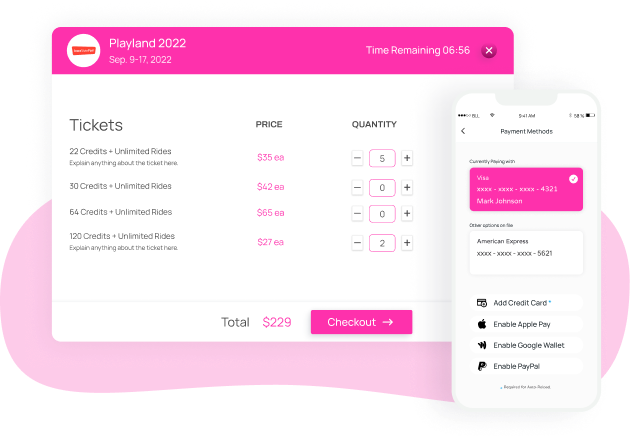 Simple cross platform payments on any device
Create a checkout flow that highlights the unique features of your event. Increase revenue by guiding customers towards the options that are right for them.
Our checkouts work on virtually any device, across all the most popular payment providers, and in a wide selection of languages and currencies.
Integrated Ride Inspection
Inspect rides regularly, record all checks and fixes, train staff, follow safety laws, and keep guests informed for utmost ride safety.
Every customer and every transaction in real time
We've designed our Magic Dashboard platform to help you surface the exact information you need to see, when you need to see it. Get a crystal clear picture of your customer behavior and see the exact time and location of every purchase. 
Gain new insights into your customers. Optimize your workflow. Make more money.
"2022 was the first year for the Ohio state fair using Magic Money and the real time figures from the midway and the simplicity of the dashboard was beyond expectations"
Magic Money has been a life saver in the post-covid era. For Cost savings by needing less employees and the ease of use, you cant ask for a better electronic ticketing system. The Magic Money team is customer driven and easy to work with.
"Bringing on Magic Money has been one of the best strategic decisions we've made in the mast 4 years. What we thought was going to be a simple solution to one aspect of our operation, has turned into an enterprise solution for our company."
"We got more ROI from Magic Money than we did purchasing a new ride. Between the labor savings, and increased spending and theft prevention we netted more then we ever could have."
"MagicMoney was a game changer for increasing revenue and finding new streams of income for our carnival. "
"MagicMoney has changed the game when it comes to eliminating labor and theft. Real time analytics allow us to make changes we never would've been able to before. "
Answer a few simple questions and we'll help you create a solution customized to fit your needs.